Help-2-Others for The Water Deprived
By Phases
Bayer Pakistan joined hands with Tayaba Organisation to provide 2,000 H2O Wheels (Help-2-Others) to water-scarce communities in Sindh and Punjab
This webinar featured experts and policymakers working in the water sector including journalist Afia Salam, Parlimentarian Dr. Nausheen, and the founder of Tayaba Organization; Bilal bin Saqib, among others. This webinar discussed the multi-dimensional roles played by the Tayaba organization and Bayer to ensure water sustainability and accessibility all across Pakistan and the policies and mechanisms that need to be employed to conserve the limited water resources of the country.

Watch Webinar
Situational Analysis Report
This Situational Analysis Report is a combined summary of the needs assessments in/of the target area. It details the existing resources, problems, and improvement opportunities for the water infrastructure and accessibility mechanism in the target area.

View Report
Final Design of The Wheel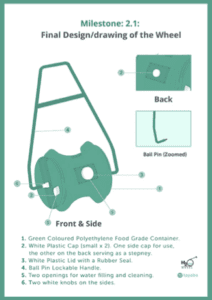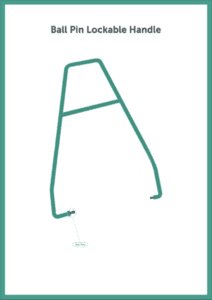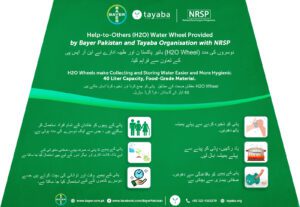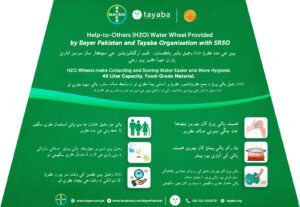 PR Campaign: Podcast Episode 1
Episode 1: Lives of Water Wives
Tayaba Organisation x Bayer official will talk about 
The tale of the Water Wives

 Pakistan's water crisis and how it affects the health, wellbeing, and lives of women

How Tayaba helps water insecure communities with our partner

View Episode
PR Campaign: Podcast Episode 4
Episode 4: The Worth of Only One Earth
Join us in Episode 4: The Worth of Only One Earth, where Misha Khan, Hafsa Zubair, and Afia Salam talk about @minaguli and the World River Run along with:


Climate change and journalism

Sustainability

Individual and collective responsibility

This episode promises to keep you glued to your seats as we truly evaluate the worth of only ONE Earth 


View Episode
These Feedback Reports aimed to determine the relevance and level of achievement of the H2O Wheels project and check its impact against Sustainability Development Goals and Key Performance Indicators in the short term. Feedback contributes to learning and informs decisions about replicating or scaling up an intervention.

View Reports
Documentary - Project Journey
Bayer and Tayaba H2O Journey
This documentary depicts the need and impact of this project. It highlights the struggles of the communities residing in desert areas who have to travel long distances each day in the scorching heat just to obtain sufficient water.
Fortunately, the joint efforts of Tayaba Organisation and Bayer have made their lives happier and more productive through the H2O wheels. The women are exploring entrepreneurial avenues, and the children have the opportunity to access educational opportunities.
View Documentary
Impact Assesment Report by IPSOS Pakistan
An impact assessment was conducted by IPSOS Pakistan to evaluate the success of this project. The findings reported highly positive outcomes resulting from this project that contributed to the physical, psychological, and financial well-being of the beneficiaries.

View Report