Meet Mina Guli - An Ultra-Marathon Runner Proving the Worth of Only One Earth
Empowered by her passion to redefine her limits and make a difference in millions of lives, Mina Guli, a water activist, ultra-marathon runner, and CEO of Thirst Foundation,  embarked on a journey to solve the global water crisis.
She was not always an athlete, let alone a marathon runner, but her resilience and dedication to this cause motivated her to run hundreds of marathons worldwide. However, Mina did not experience an unchallenging journey. At a young age, she met with a tragic accident that rendered her incapable of running ever again, according to doctors. At this defining moment in her life, Mina Guli made the ultimate choice to defy all odds and set her own limits.
"Given my lifelong animosity towards sport, this could have been an excuse to avoid them. Instead, I saw it as an opportunity – to redefine my limits" -Mina Guli (RunBlue)
She started with swimming, followed by biking, and eventually became one of the world's biggest athletes.
Mina Guli does not just run, she runs with a purpose
.
In the early stages of her career as a lawyer, she discovered the horrifying impact of climate change and was familiarised with the concept of 'invisible water'-the overwhelming amount of water consumed in manufacturing food, clothing, and other items. From then onwards, Mina dedicated her life to fighting water scarcity worldwide. In 2012, she established the Thirst Foundation, a non-profit raising awareness and inspiring urgent strategizing and global action in over 190 countries and territories about the most vital resource of all water! 
Mina Guli realised that to inspire actual climate action, she needed to do more. In 2016, she envisaged her action-oriented campaign by running forty marathons across seven deserts on seven continents over seven weeks! She did not stop there. The very next year, she ran along six of the world's greatest rivers on six continents to express support for UN Sustainable Development Goals (SDG) 6; 'Clean water and sanitation for all'.
The exceptional media coverage enabled her to reach over 4 billion people with the message of sustainability and urgent water action. These inspired 'water heroes' rendered their support in Mina Guli's next adventure, the RunningDry campaign of 2018, where she aimed to run 100 marathons in 100 days to demonstrate her 100% dedication to solving the water crisis, during which she met with another misfortune incurring a serious leg injury during marathon 62. However, this time she did not have to fight through it alone; the campaign inspired a global movement for urgent water action as thousands of individuals from over 50 countries and territories ran on her behalf. 
Mina Guli's undying strength and commitment to ending water scarcity never let her stop. Currently, she is completing 200 marathons by 'World Water Day 2023' under her biggest campaign yet, the RunBlue campaign, for which she is running across the driest, most water-stressed regions of the world starting from Australia and finishing in New York within a year, in time for UN 2023 Water Conference. Mina Guli aims to inspire 200 companies to run blue by adopting sustainable water management mechanisms to ultimately solve the global water crisis. She interacts with water-deprived communities and collaborates with various NGOs and world leaders to inspire urgent action.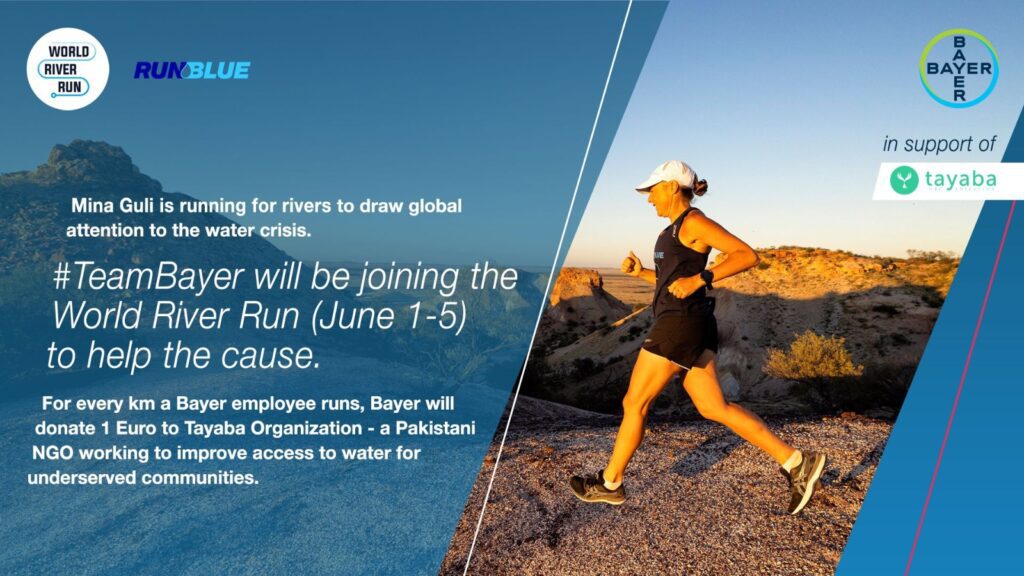 Photo Source: Bayer Pakistan
Tayaba Organisation is extremely excited to be a part of Mina Guli's H2O Story of dedication and resilience. Under the RunBlue campaign, she has collaborated with Bayer, a multinational pharmaceutical and biotechnology company committed to sustainability and a partner of Tayaba's Help-2-Others initiative. 
Through this campaign, Bayer's employees from all over the world ran over 40,000 kilometers to raise awareness regarding the importance of water. To maximise the impact, Bayer graciously matched each kilometer run by its employees with a one-euro contribution to Tayaba Organisation's projects. Under this campaign, Bayer donated 100,000 euros to Tayaba for which the team is grateful and immensely hopeful that this will inspire a lasting impact. 
Tayaba, in partnership with Bayer Pakistan is investing these funds to further Mina Guli's mission to ensure water and sanitation accessibility for thousands of lives affected by multifaceted effects of climate change in the form of disastrous floods and devastating droughts in Pakistan. 
To witness an exciting discussion about Mina Guli's story and the impact she is inspiring, listen to Tayaba's podcast episode titled "The Worth of Only One Earth" involving Afia Salam and team Tayaba and Bayer through this link: