Tharparkar: A Story of Water Lockers?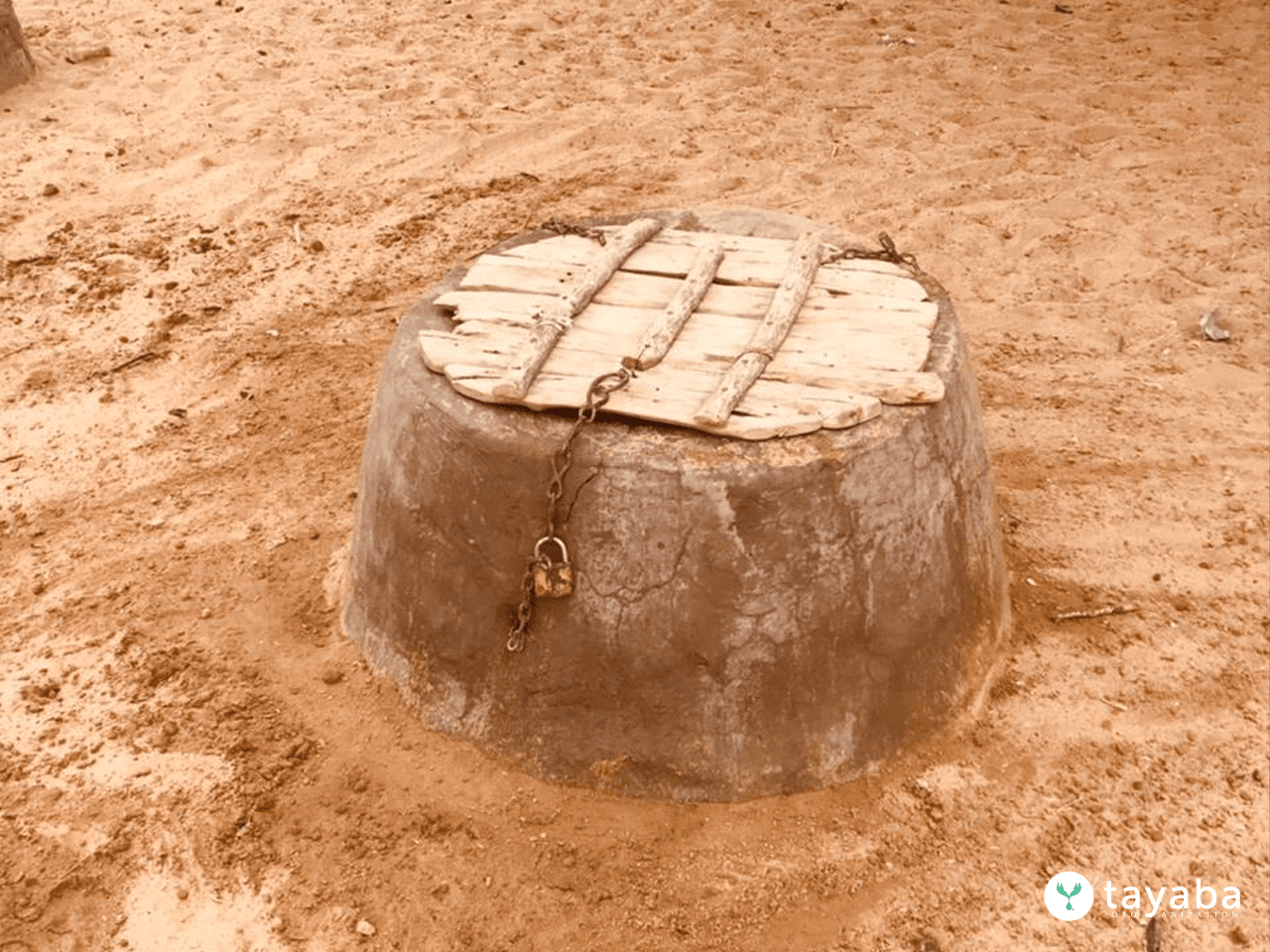 Photo by Tayaba Organisation – All Rights Reserved
When inquired about their most valuable possessions, the responses of residents of Tharparkar (Thar); are heartwrenching, to say the least. Thar is one of the largest districts of Sindh province, dominated mainly by desert land where the weather is characterised by low rainfall and extreme heat. 
For the water-deprived people of the Thar desert in Pakistan, the most valuable asset one can possess is water. Yes, WATER!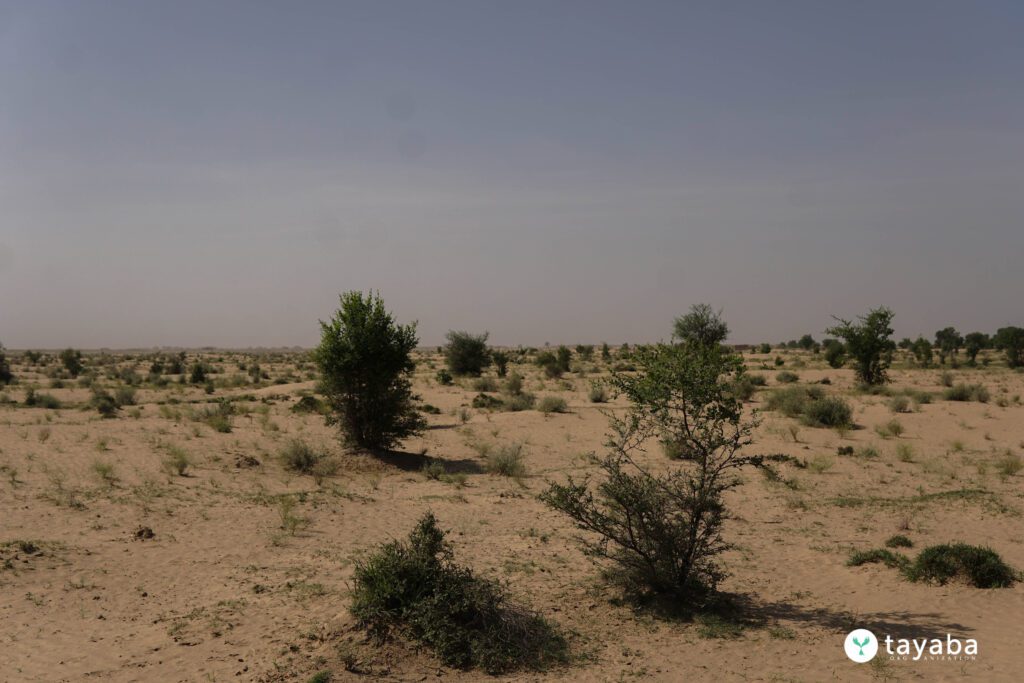 Photo by Tayaba Organisation – All Rights Reserved
Water is indeed the most valuable resource for any living being's survival but do we keep it locked in a bank with our jewels? No, since water has always been so conveniently accessible to us, we fail to comprehend the physical and emotional turmoil prompted by the lack of it. It is a well known fact that water is a scarce commodity in most areas of the world, but owing to its inequitable distribution, we have not yet fully experienced its deprivation or scarcity. While those who suffer the devastating implications of water scarcity guard the little water they have with their lives, since what could sustain life without water?
The water that seamlessly flows from our taps and is often wasted without a second thought can be the greatest blessing of someone's life and be worth more than gold or precious jewels to those without access.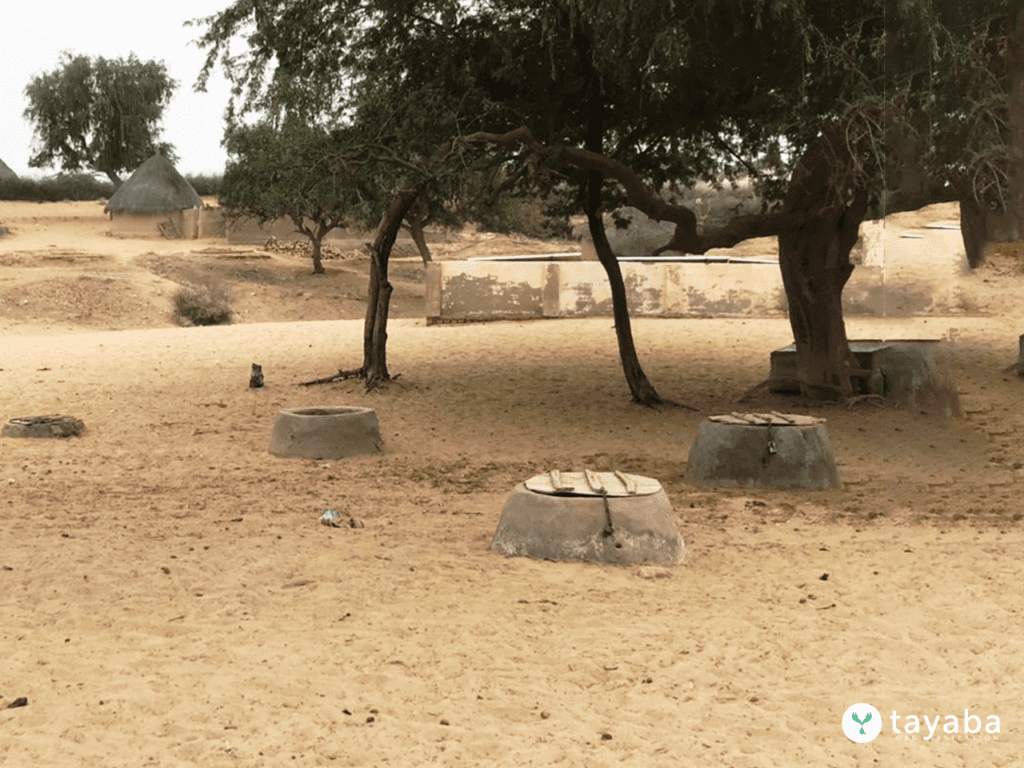 Photo by Tayaba Organisation – All Rights Reserved
The water storage mechanisms in Tharparkar can be explained as bank locker-esque water lockers where the people of the desert store and seal the sparse amount of water they can collect from remote sources. These water sources can often only be accessed after a long and strenuous journey that consumes a significant part of one's day. The limited amount of water they can collect daily sustains their household; it is used for drinking, cooking, cleaning, feeding animals, and all domestic hygiene and sanitation activities. 
These water lockers bear witness to the perpetually worsening state of the water crisis in Pakistan that has forced the hospitable people of the Thar desert to keep the most basic resource under chains and locks just to ensure the survival of their loved ones.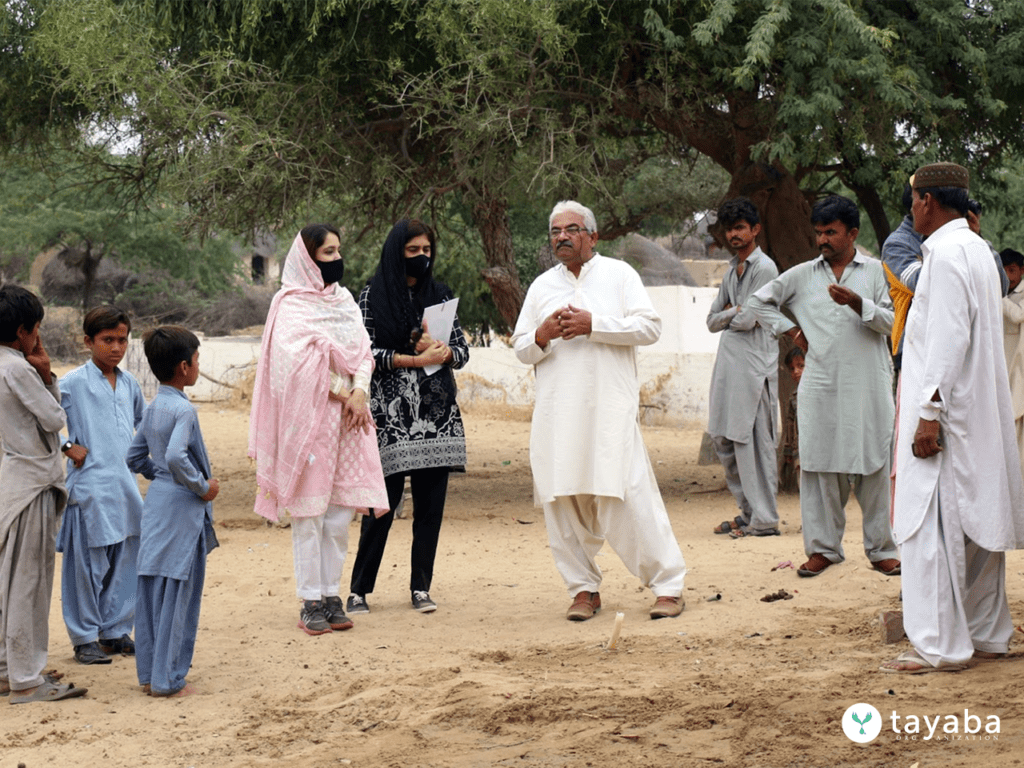 Photo by Tayaba Organisation – All Rights Reserved
On a recent visit to the desert, the team of Tayaba Organisation was bewildered to discover these water-locking structures. "Are these WATER Lockers?" – exclaimed Nida Yousaf Sheikh, the CEO of Tayaba Organisation.
After taking some time to rationalise what she had just witnessed, she expressed concern about the country's dismal water access situation impacting the norms in water-deprived areas. "This makes us realise how water is such a big asset here (desert)"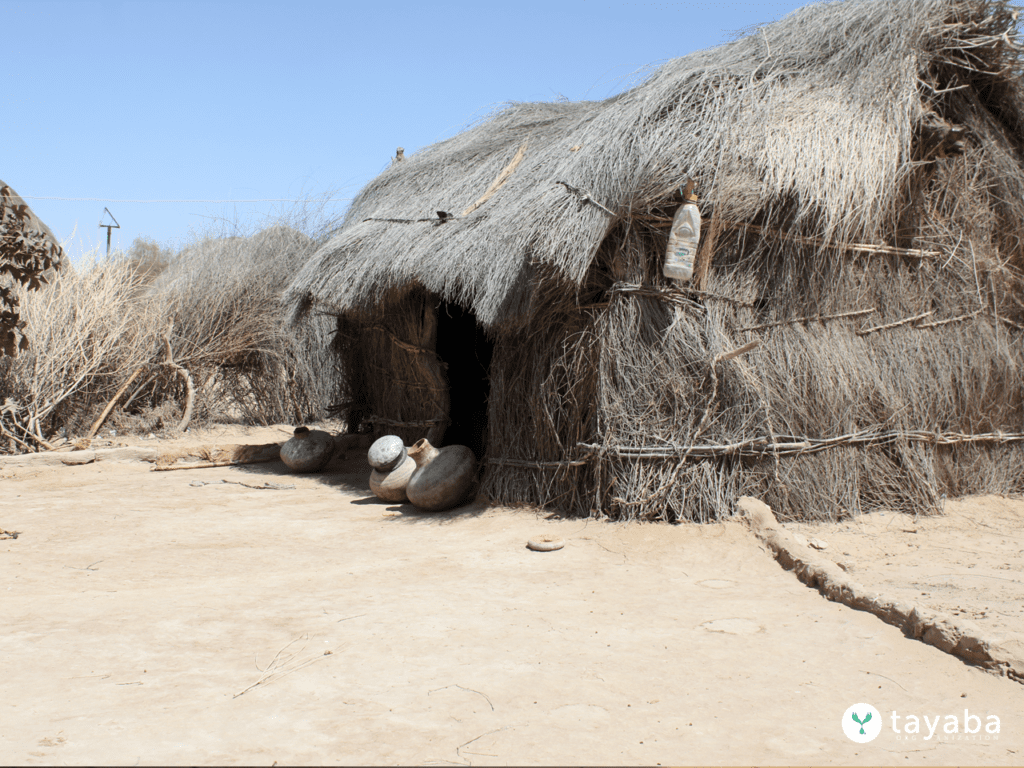 Photo by Tayaba Organisation – All Rights Reserved
She lamented that while the people of Tharparkar leave their houses unlocked and doors open, owing to the low crime rate in the region, the thought of their water running out is so terrifying that they use all their locks to guard it. The people of Tharparkar use each ounce of this water with extreme thoughtfulness after calculating every possible risk that could befall their family in case their water runs out. This heartbreaking tale persists in all water-deprived areas in the world, where locals undertake struggle to acquire water each day to meet their family's survival needs.
"If their water needs are taken care of, the people of Tharparkar can work towards building a healthier and happier life for themselves",
explained Mr. Suresh Kumar, a member of Sami Foundation; a grassroots organisation working for social reform and community empowerment in the Thar desert, among other districts in Sindh.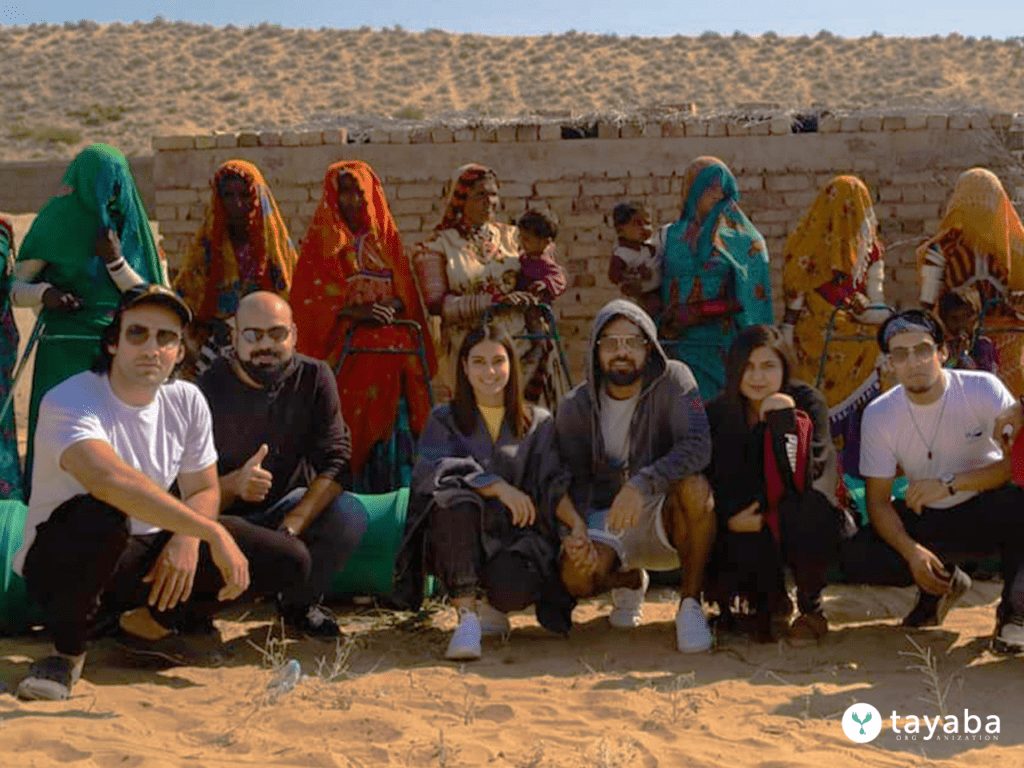 Photo by Tayaba Organisation – All Rights Reserved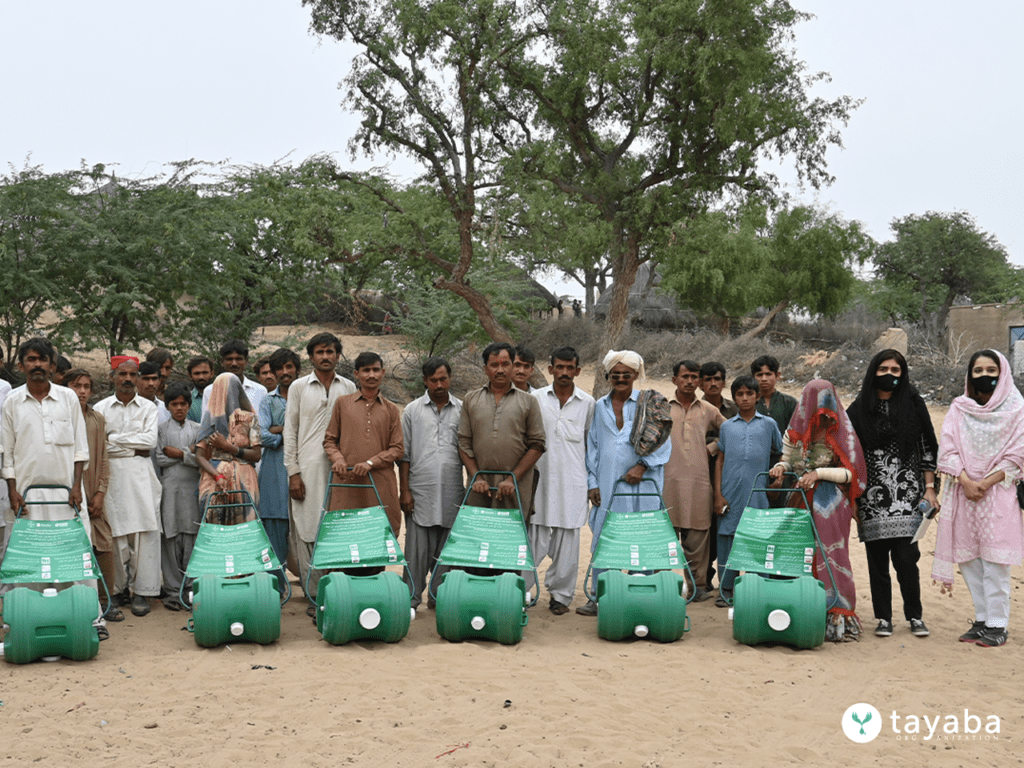 Photo by Tayaba Organisation – All Rights Reserved
Tayaba Organisation introduced its intervention in Tharparkar desert to ensure much-needed ease for its residents. The Help-2-Others (H2O) Wheel has facilitated the locals through the water collection and transportation process. Moreover, the wheels ensure the hygienic storage of up to 40 litres of water hence performing the function of portable 'water lockers' and greatly improving water accessibility while conserving the precious time and energy of local residents.
Discovering the 'water lockers' made team Tayaba contemplate the worth they associate with water and made them ask the question: When was the last time they valued water more than any other possession or tried to protect it using everything in their power?
How did this H2O Story impact how much you value water? Please share your water conservation stories with us!

Published on 03/November/2022